Workspaces section is were your organizations locations & resources are set up and managed in an easy to use, yet effective hierarchical structure.
This article covers:
Organizing your workspaces
Workspaces are structured to reflect your organizations physical spaces.
Click the to start adding your organizations locations & resources in an hierarchical tree.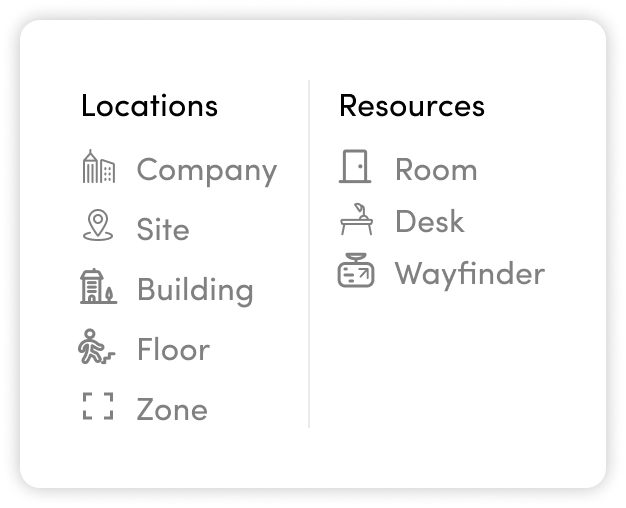 Add locations
Locations are what separates different entities in your organization and they can be arranged in a hierarchical structure. A great feature is that the structure is non-hierarchical. So you can either add all, or only the ones applicable to your organization.
The location item types are:

Company - add different organizations.


Site - add geographical sites.


Building - add buildings.


Floor - add building floors.


Zone - separate areas into zones (eg tech department).
In the example below either the full structure starting with company is used, or the user can simply add a building with a floor underneath it.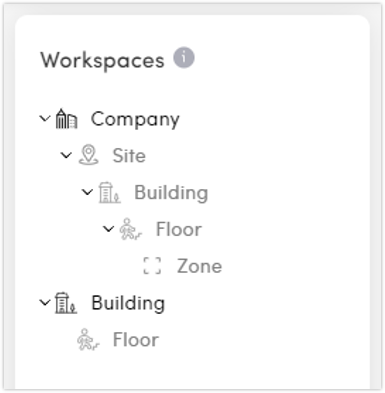 Add resources
Resources are items that either present or can be reserved in the GOGET platform. Currently we support the following items:

Rooms - a meeting room for which a meeting room display can be added.

Desks - a desk for either hotdesking or office hoteling.

Wayfinder- a large wayfinder display showing information for multiple rooms/desks.
Resources can be added freely underneath locations, including the main Workspaces location. See example below were Room 1 & 2 is added under the full structure, while Room 4 is added directly beneath Workspaces: